Campaign "Ribbon of St. George"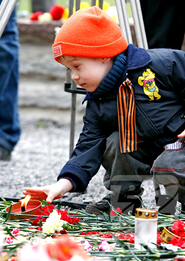 The campaign "Ribbon of St. George" usually starts on April 22 and it's held from April 22 to May 9. The event marks the anniversary of the Victory in the Great Patriotic War.

The "Ribbon of St.George" initiated by RIA Novosti and "Student community" in 2005, in the year of the 60th anniversary of the Victory, is getting larger every year. Fifty-five million ribbons have been distributed all across the world for the first 5 years.

In 2009 almost all Russian regions joined the campaign. For instance, only in the Toms region there are 50,000 ribbons distributed every year. On May 8-9 every passenger at the Tomsk airport gets such ribbons. The champion of the St.George ribbon, not including Moscow and St.Petersburg, is Kuban where the volunteers distribute more than 300 Victory symbols every year. And in Blagoveschensk all comers could get both ribbons and special car stickers.

But who value this action the most are the veterans of war; they say St.George ribbons make them feel care and gratitude, and respect by the younger generation. All the veterans can take a Victory ribbon on streets, at stores, in any Sberbank offices and at many other places. Those who are not able to come and get the ribbon could receive it by post, and also social officers are distributing the ribbons right at veterans' places.

A black-and-orange ribbon is also very important for many Ukrainians – it is a symbol of the Great Victory.

Well, the St.George ribbons are also handed outside Russia. The expat communities in Great Britain, USA, Mexico, Turkey, Argentine, China, Iceland, South Africa, Greece and Vietnam have joined the campaign too. In addition, the St.George ribbons are distributed at London's Guild Hall museum, and in Shanghai.

In Moscow they organize free screening of war movies, and educational institutions are giving special topical lessons and lectures dedicated to war and the St.George ribbon. The veterans and front works are supported with a special humanitarian help.