Congratualtions to Myagkova Rufina, a war veteran on the occasion of her birthday!
Sokolniki Museum and Educational Centre team sincerely wishes Myagkova Rufina a Happy Birthday!
We extend our warmest congratulations on your Birthday!
We wish you the best of health and unfading zest for life and optimism! May your family and friends care and attend to you while every day brings joy and good vibes.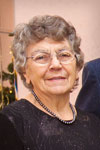 Source: Project "Our veterans"