Best regards of the day to Alexey Semenovich Myagkov!
Sokolniki Exhibition and Convention Centre personnel is heartily congratulating Alexey Semenovich Myagkov with his birthday!
Sincerely wish you to keep warm memories to cheer you up at all times, and sweet unforgettable moments of the present to fill you with happiness and joy.
Wish you the best of health forever, and let every day of yours be special, favourable and full of positive.
Happy birthday!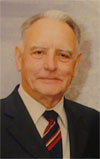 Source: Project "Our veterans"