40 days left till the Great Patriotic War Victory Day
Many Russian cities and towns torn by the war later saw the emergence of the Tombs of Unknown Soldier. The most famous of them was inaugurated in the Alexander Garden at the Moscow Kremlin walls on May 8, 1967, wherein the remains from a common grave at the 41st kilometer of Leningradskoye shosse had been reinterred.

Leonid Brezhnev kindled the Eternal Flame of the Tomb. The tombstone is decorated with a soldier's helmet and laurel on the colours. The centre of the monument harbours a niche containing an inscription: "Your name is unknown, but your feat is immortal". A granite alley of blocks with carved names of the Hero-Cities runs to the right of the tomb. Each block contains a capsule with a handful of earth from the corresponding location.

On December 12, 1997 under the Presidential Decree Post #1 of the Guard of Honour was relocated from Lenin's Mausoleum to the Tomb of Unknown Soldier. The guard is manned with the Presidential Regiment.

For more information on the Great Patriotic War go to Our Victory official website.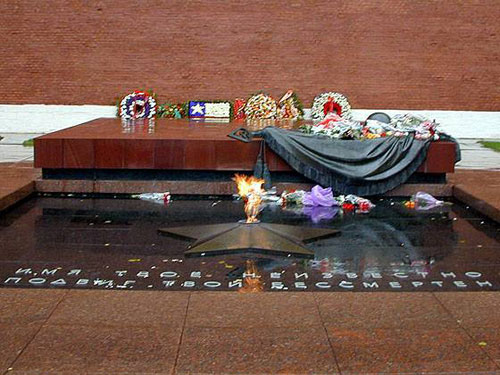 The Tomb of Unknown Soldier