24 days left till the Great Patriotic War Victory Day
The legendary poster "Motherland Calls!" designed by Irakly Toidze saw light in June 1941. The artist admitted that the concept of a generic image of the Mother, urging her sons to stand up, came to him rather spontaneously. Having heard the first Soviet Information Bureau message about the Nazi invasion of the USSR, Toidze's wife rushed in his studio, shouting, "War!" Struck by the expression of her face, the artist commanded his wife to freeze and started to draw a sketch of the would-be masterpiece on the spot.
Toidze's son recalled that his father had been fond of Andrei Bely (a Russian novelist, poet, theorist, and literary critic), who wrote the following lines, "So let me, oh, Motherland, into your vastness damp and empty, into your vastness cry…" Perhaps those lines were behind the idea of the poster. The image of the Motherland was later adopted and applied by the soviet propaganda as one of the most frequent symbols, also becoming the icon of the Great Patriotic War.
For more information on war heroes visit Our Victory social project official website.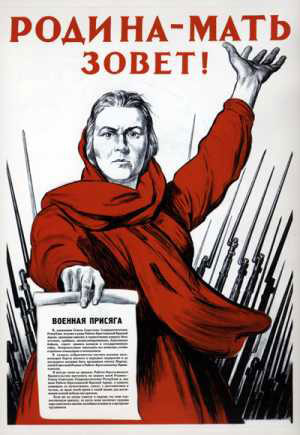 The legendary poster "Motherland Calls!"