Congratualtions to Myagkova Rufina, a war veteran on the occasion of her birthday!
Sokolniki Exhibition and Convention Centre team sincerely wishes Myagkova Rufina a Happy Birthday!
We extend our warmest congratulations on your Birthday!
We wish you strong health, infinite energy, unquenchable optimism, wealth and happiness. May you be surrounded with devoted friends and supporters.
Let all your dearest dreams come true, and let fortune favour all your endevours.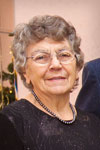 Source: Project "Our veterans"