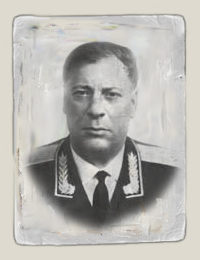 13.8.1920 - 4.5.1999
Vasily Andrianov was a bomber pilot.
He was born on August 13, 1920 in Ivanisovo village, today Bezhetsk district of Tver region in a peasant family. Russian. A member of the CPSU (B) / Communist Party since 1944 graduated from the Smolensk Co-operative College in 1939.
Joined the Red Army in 1940. In 1943, he graduated from the Perm Air Force Pilot School.
On the fronts of the Great Patriotic War was from June 1943. Was fire-seasoned for the first time on the Kursk Salient. On July 24, 1943 in the IL-2 group took part in a ground attack of Belgorod railway station.
The title of Hero of the Soviet Union and the Order of Lenin and Gold Star medal (№ 1976), commander of the 667th Attack Aviation Regiment (the 292
nd
Assault Air Division, the 5
th
Air Army, the 2
nd
Ukrainian Front) Junior Lieutenant, Vasily Andrianov was awarded on July 1, 1944 for 87 missions to attack the enemy troops in the battle of Belgorod, Kharkov, Poltava and Kirovograd directions.
The second Gold Star medal (№ 6036) Squadron commander of the 141
st
Guards Attack Aviation Regiment (the 9
th
Guards Assault Aviation Division, the 2
nd
Air Force, the 1
st
Ukrainian Front) Guard Captain, Vasily Andrianov was awarded by the Decree of the the Presidium of the Supreme Council of the USSR of June 27, 1945 for 90 sorties in the battles near Lvov, Sandomierz bridgehead (Poland) and other positions.
He ended the war in Berlin. Altogether during the war he made 177 sorties. Personally destroyed 50 tanks, 200 vehicles, 25 anti-aircraft artillery batteries, 13 warehouses and many other equipment of the enemy, in 37 air battles downed six enemy planes.
In 1950, a brave bomber pilot graduated from the Air Force Academy; in 1961 — the General Staff Academy. Air Force Major General (1971). Up to 1981 taught at the Military Academy of the General Staff. Died on May 4, 1999. He was buried in the city-hero of Moscow at Troekurovskoe cemetery.
He was awarded the Order of Lenin, three Orders of the Red Banner, the Order of Alexander Nevsky, two 1
st
Class Orders of the Patriotic War, the Order of the Red Star, the Order For the Service to Motherland in the Armed Forces of the third degree, the 3
rd
Class Order of Fame, and medals.
A bronze bust of twice Hero of the Soviet Union, V. Andrianov was installed in Sonkovo village of Tver region.
On July 30, 2008, from the Hero's apartment, where his son lives, all the awards were stolen: two Gold Star medals and all the Orders.