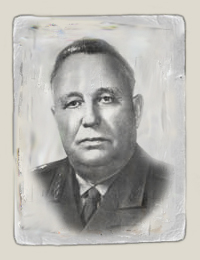 29.12.1906 - 13.6.1985
Vasily Arkhipov was a tank company commander during the Soviet-Finnish War of 1939-40, Commander of the 53
rd
Guards Tank Brigade of the 6
th
Guards Tank Corps of the 3
rd
Guards Tank Army of the 1
st
Ukrainian Front during the Great Patriotic War.
He was born on December 29, 1906 in Tyutnyary village (today Argayashsky district of Chelyabinsk region). Russian. A member of the Communist Party from 1931.
In the Soviet Army from 1928. In 1938 and 1943 he graduated from the postgraduate commanders' courses, and in 1950 - the General Staff Military Academy.
During the Soviet-Finnish War of 1939-40, commanding a tank company, while breaking through the fortified enemy's defense, Captain Arkhipov showed courage and high military skill, for which by the Decree of the Presidium of the Supreme Soviet of 21 March 1940 he was awarded the title of Hero of the Soviet Union, the Order of Lenin and the Gold Star medal (№ 483).
During the Great Patriotic War V. Arkhipov commanded a tank battalion, regiment and brigade on the South-Western, Bryansk, the Don, Central and the 1
st
Ukrainian Fronts.
For his leadership of a tank brigade fighting actions and personal bravery in fighting for the liberation of the city of Peremyshl (Pshemysl, Poland), crossing the River Vistula and holding a bridgehead on the west bank, by the Decree of the Presidium of the Supreme Council of the USSR on September 23, 1944 the commander of 53
th
Guards Tank Brigade, Guards Colonel V. Arkhipov was awarded the second Gold Star medal (№ 4642).
On April 20, 1945 Brigade Commander Arkhipov was promoted to the rank of Major-General of the Armored Forces.
After the war he commanded the compounds, was commander of the armored and mechanized armies (1954 - armor, 1960 - tank ones) of the Turkestan Military District; Deputy Commander of the Military District. In 1963, V. Arkhipov was promoted to the rank of Colonel General. In 1971 he was retired. Died on June 13, 1985 in Moscow, where he was buried at Kuntsevo Cemetery.
He was awarded three Orders of Lenin, the Order of the October Revolution, 5 Orders of the Red Banner, the 2
nd
Class Order of Kutuzov, the 1
st
Class Order of the Patriotic War, the Red Star, and medals; foreign orders.