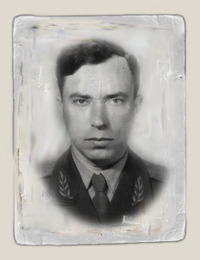 16.8.1920 - 26.12.1976
Leonid Beda was a squadron commander of the 75
th
Guards Ground Attack Aviation Regiment (the 1
st
Guards Attack Air Division, the 8
th
Air Army, the 4
th
Ukrainian Front), Guards Lieutenant;
Assistant Commander of the 75
th
Guards Ground Attack Aviation Regiment (the 1
st
Guards Assault Aviation Division, the 1
st
Air Army, the 3
rd
Belorussian Front), Guards Major.
He was born on August 16, 1920 in Novopokrovka village of Leninsky district, today the Kostanay region (Kazakhstan). Ukrainian. In 1936 he graduated 7 years of schooling, in 1940 – the Ural Pedagogical Institute.
Joined the army in August 1940. In 1942, he graduated from Chkalovsky Air Force Pilot School (Orenburg).
Participated in the Great Patriotic War: in August 1942 – January 1943 – the pilot, senior pilot, navigator and squadron commander, Assistant Commander of the 505
th
(from March 1943 - 75
th
Guards) Attack Aviation Regiment at the air-rifle service.
By April of 1944, he had made 109 sorties. For courage and heroism, by the Decree of the Presidium of the Supreme Soviet on October 26, 1944 Guards Senior Lieutenant, Leonid Beda was awarded the title of Hero of the Soviet Union, the Order of Lenin and the Gold Star medal (№ 4723).
For the next 105 sorties, by the Decree of the Presidium of the Supreme Soviet on June 29, 1945 Guards Major, Leonid Beda was awarded the second Gold Star medal (№ 61/II).
He fought at Stalingrad, Southern, 4
th
Ukrainian and 3
rd
Belorussian fronts. He participated in the Battle of Stalingrad, the liberation of the Donets Basin, the southern Ukraine, the Crimea, Belarus and Lithuania, in the East-Prussian operation and the assault of Koenigsberg. In total during the war he made 214 sorties on the Il-2.
After the war, until 1947 he continued to serve in the Air Force combat units (in the Belorussian Military District). In 1950 he graduated from the Air Force Academy (Monino). He was a regimental commander, deputy division commander (in the Turkestan Military District). In 1957 he graduated from the Military Academy of the General Staff. Commanded a division. In 1966-1968 - Deputy, in 1968-1972 - 1
st
Deputy Commander of the 26
th
Air Army (Belorussian Military District). From February 1972 - Commander of 26
th
Air Force.
He lived in Minsk (Belarus). Died on December 26, 1976 in an automobile accident. He was buried at the East (Moscow) cemetery in Minsk.
Lieutenant General of Aviation (1972), distinguished Military Pilot of the USSR (1971). He was awarded the Order of Lenin (October 26, 1944), 4 Orders of the Red Banner (08/30/1943, 11/01/1943, 10/24/1944, 02/22/1968), the Order of Alexander Nevsky (07/03/1944), the 1
st
Class Order of the Great Patriotic War (04/19/1945), the Order of the Red Star (12/10/1942), medals. A member of the Supreme Council of the Belarusian SSR since 1975, a member of the Communist Party of Belarus since 1976.
Honorary Citizen of Kostanay. A bronze bust was installed in Kostanay. The streets in Kostanay, Minsk and Lida of the Grodno region are named after him.