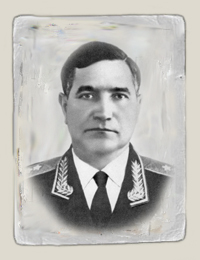 30.9.1921 - 7.11.1989
Andrey Borovykh was a fighter pilot of the 157
th
Fighter Air Regiment of the 6
th
Fighter Air Corps of the 16
th
Air Army.
He was born on October 30, 1921 in Kursk, in a working class family. Russian. A member of the CPSU (B) / Communist Party from 1943. In 1936, he graduated from high school.
He joined the Red Army in 1940. He graduated from Chuguev Military Aviation School in 1940.
On the Great Patriotic War fronts from December 1941. His operational record run through Orel and Kursk, Gomel and Brest, Lvov and Warsaw, and ended near Berlin. He flew to intercept the enemy aircraft, accompanied our bombers to the enemy rear, carried out aerial reconnaissance.
The title of Hero of the Soviet Union, the Order of Lenin and the Gold Star medal (№ 1077) commander of the 157
th
Fighter Regiment (the 273
th
Fighter Division, the 6
th
Fighter Aviation Corps, the 16
th
Air Force, the Central Front), Junior Lieutenant Andrey Borovykh was assigned by the Decree of the Presidium of the Supreme Soviet on August 24, 1943 for 341 successful sorties and participation in 55 air battles, in which he personally shot down 12 enemy planes and 14 in the group.
The second Gold Star medal (№ 62) Squadron of the same regiment (the 234
th
Fighter Division, the same Corps and the Army, the 1
st
Belorussian Front), Captain Andrey Borovykh received by the Decree of the Presidium of the Supreme Soviet dated February 23, 1945 for knocked over 19 enemy planes more during the next 49 air battles.
During the war, A. Borovykh flew about 470 successful sorties, and personally shot down 31 enemy planes and 14 in the group.
After the war, a brave fighter pilot commanded the aircraft regiment, and air units. In 1951 he graduated from the Air Force Academy. In 1957 - the Military of Academy of General Staff. In 1958-1977 – occupied command positions in the Moscow Military District; commanded the Air Force Air Defense, Aviation Colonel-General (1968). Since 1977 – at the Institute of Military History of the Ministry of Defence of the USSR. Was elected deputy of the Supreme Soviet of the RSFSR and the Supreme Soviet of the USSR. He lived in Moscow. Died tragically on November 7, 1989. Was buried at Novodevichy Cemetery in Moscow.
He was awarded two Orders of Lenin, five Orders of the Red Banner, the Order of Alexander Nevsky, the 1
st
Class Order of the Patriotic War, three Orders of the Red Star, the 3
rd
Class Order "For the Service to the Motherland in the USSR Armed Forces", medals. Honorary Citizen of Kursk (1988).
A bronze bust was installed in Kursk.
The author of scientific articles "New equipment, weapons and people" (1972), "Safe Shield of the Homeland" (1985), etc.