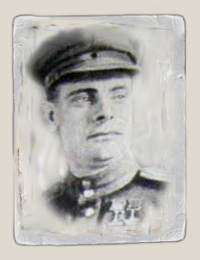 1. 12. 1915 - 12. 11. 1945
Nikolay Goryushkin was commander of a squadron and a battalion of the 22
nd
Guards Motorized Rifle Brigade of the 6
th
Guards Tank Corps of the 3
rd
Guards Tank Army.
He was born on December 1, 1915 in Sharapkino village of Rovenkovsky district, now Sverdlovsk-city of the Lugansk Region (the Ukraine), in a working class family. Russian.
Joined the Red Army in 1937. In 1941 he graduated from Uryupinsk military infantry school. On the Great Patriotic War fronts since July 1941. Until the end of the war he was in the army on the South-Western, Bryansk, Central, Voronezh and other fronts.
He commanded a platoon, company, battalion; since April 1945 he was deputy commander of the 22
nd
Guards Motorized Rifle Brigade. Participated in the Battle of Kursk in 1943, the liberation of the Ukraine and Poland. A member of the CPSU (b) since 1943.
When crossing the Dnieper on September 23, 1943 a company of the 22
nd
Guards Motorized Rifle Brigade (the 6
th
Guards Tank Corps, the 3
rd
Guards Tank Army, the Voronezh Front) led by Guards Lt. Nicholay Goryushkin first in the regiment crossed to the west bank of the river in the Ukrainian village Grigorovka, Kanyev district of the Cherkassy region. They seized the bridgehead and in the stubborn fight held it until the main power arrived, providing the overall success of units and formations.
By the Decree of the Presidium of the Supreme Soviet on January 10, 1944, for his courage and bravery shown in fights against the Nazi invaders, Guards Lieutenant Nikolay Goryushkin was awarded the title of Hero of the Soviet Union, the Order of Lenin and the Gold Star medal (№ 2125).
With the release of the Oder on January 23, 1945 near Groshovitse village (now in the city of Opole, Poland), Guards Captain Goryushkin surprisingly for the enemy forwarded his battalion on the other side. Acting boldly and resolutely, the battalion captured an important beachhead.
The second Gold Star medal Guards Captain Goryushkin was awarded by the Decree of the Presidium of the Supreme Soviet on April 10, 1945 for forcing the Oder River.
Guards Major's life tragically ended on November 12, 1945, when he was only 30 years life. Being a student of the Military Academy in Moscow, he fell into the span of the staircase. He was buried in Sverdlovsk, the Lugansk region of the Ukraine, in the bed of honor of the memorial to the Soviet soldiers died during the war.
He was awarded the Order of Lenin, two Orders of the Red Banner, the Order of Alexander Nevsky, and some medals.
A bronze bust of twice Hero of the Soviet Union, Nikolay Goryushkin was established in Sverdlovsk of the Lugansk region, where the street is named after him.