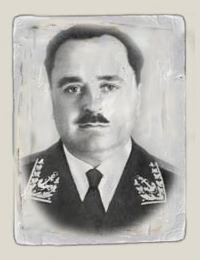 20. 6. 1917 - 11. 3. 2004
Alexey Mazurenko was pilot of the 57
th
Attack Aviation Regiment of the 8
th
Bomber Brigade, commander of the 7
th
Guards Ground Attack Aviation Regiment of the 9
th
Air Division of Air Assault of the Baltic Fleet.
He was born on June 7 (20), 1917 in Leninka, Ustinovsky district, Kirovograd region in a peasant family. Ukrainian. Before being drafted into the Red Army he worked as an electrical mechanic. He studied at Glider School, and then a flying club.
In 1938, he was conscripted and sent to the Naval Aviation School, which he graduated from in 1940.
During the Great Patriotic War he rose through the ranks from pilot to commander of the regiment. Many thousands of kilometers he flew on his "Il" over the sea, over the German fortifications, fought at Leningrad, over the Baltic. Altogether during the war, the brave pilot made about 300 successful sorties. He personally sank 8 ships of the enemy, and 22 in a group, and also destroyed a large quantity of military equipment on the land.
By the Decree of the Presidium of the Supreme Soviet on October 23, 1942 for exemplary performance of tasks and for displaying courage, heroism and bravery, Junior Lieutenant Alexey Mazurenko was awarded the honorary title of Hero of the Soviet Union, the Order of Lenin and the Gold Star medal (# 750).
By the Presidium of the Supreme Soviet on November 5, 1944, for his leadership, Colonel Alexey Mazurenko was awarded a second Gold Star medal.
After the Great Patriotic War Air Force Major General, A. Mazurenko took senior officer tactical flight training and graduated from Aviation Department of the Naval Academy. In 1947-1948 he commanded the 15
th
Composite Air Division (town of Sovetskaya Gavan, Khabarovsk Territory), headed units, worked in the higher military educational institutions. Since 1972 - in reserve.
He lived in Leningrad (since 1991 - Saint-Petersburg). Served as director of Ararat winery, and in 1982-1997 - director of the Militia Palace of Culture; was a member of the Committee of the Leningrad military veterans and military service of fellow soldiers. In 1995 he took part in the celebrations commemorating the 50
th
anniversary of Victory Day in Moscow and took the ceremonial march through Red Square heading the column of veterans of the Leningrad front.
He died on March 11, 2004. He was buried in St. Petersburg at St. Nicholas cemetery of Alexander Nevsky Monastery.
He was awarded the Order of Lenin (1942), three Orders of the Red Banner (1941, 1942, 1944), the 2
nd
Class Order of Ushakov (1945), two Orders of Patriotic War of the 1
st
Class (1943, 1985), the Order of the Red Star (1953), and medals. Honorary citizen of St. Petersburg (1999).
A bronze bust was installed in the village of Ustinovka, Kirovograd region.