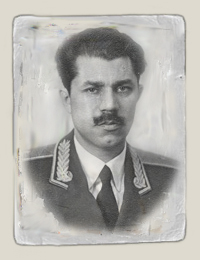 27. 6. 1920 - 9. 6. 2002
Alexander Molodchy was Deputy Squadron Commander of the 420
th
Bomber Aviation Regiment of the 3
rd
Air Division of the Long-Range Aviation and the 2
nd
Guards Aviation Regiment of the 3
rd
Air Division of the Long-Range Aviation
He was born on June 27, 1920 in Lugansk, the Ukraine. Ukrainian. He graduated from school (7 years).
Joined the Red Army in 1937. In 1938 he graduated from Voroshilovgrad military flying school.
The Great Patriotic War started for him in August 1941. He fought as part of the 420th Aviation Regiment and the 748
th
(the 2
nd
Guards) Aviation Regiment (Long-Range Aviation). He flew 311 combat sorties (including 287 at night). He flew to bomb major military facilities of the enemy. In total flew some 600 thousand kilometers. About 190 thousand kilometers his plane flew over the enemy territory, more than 200 tons of bombs he dropped on the enemy various military and industrial facilities.
By the Decree of the Presidium of the Supreme Soviet on October 22, 1941 Junior Lieutenant Alexander Molodchy was awarded the honorary title of Hero of the Soviet Union, the Order of Lenin and the Gold Star medal (# 546).
By the Presidium of the Supreme Soviet dated 31 December 1942, Captain Alexander Molodchy was awarded a second Gold Star medal (# 6).
After the war, Alexander Molodchy graduated from the Academy of General Staff and served in senior positions in the Soviet Air Force. In 1962 he was promoted to the rank of Lieutenant-General of Aviation. Since 1965 - in reserve, and then retired. He lived in Chernigov (the Ukraine). He died on June 9, 2002.
He was awarded three Orders of Lenin, three Orders of the Red Banner, the Order of Alexander Nevsky, the 1
st
Class Order of the Patriotic War, the Order of the Red Star, some medals and foreign decorations.
The Tu-160 strategic bomber serving in the Russian Air Force since May 2001 is named after A. Molodchy. A bronze bust of twice Hero of the Soviet Union, A. Molodchy was installed in Lugansk. A memorial plaque was set in Chernigov. The street in Chernigov is named after him as well.