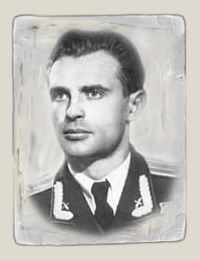 29. 12. 1922 - 29. 12. 1996
Vasily Mykhlik was a bomber pilot of the 566
th
Attack Aviation Regiment of the 277
th
assault aviation division.
He was born on December 29, 1922 in Soldatskoe, Kazankovsky district of Nikolaev region in a peasant family. Ukrainian. He graduated from high school in Krivoy Rog, Dnepropetrovsk region, the Ukraine.
Joined the Red Army in 1940. He began his service as a cadet of the 1
st
Volsky aerotechnical school named after Lenin Komsomol which he graduated from in September 1941.
During the Great Patriotic War he mastered a military plane and became a pilot of attack. He fought in the 566
th
Attack Aviation Regiment, was a navigator, flight commander, squadron. He made 188 sorties. He finished the war in the capital of East Prussia - Königsberg (now Kaliningrad).
By the Decree of the Presidium of the Supreme Soviet on February 23, 1945 for exemplary performance of command assignments, his courage, bravery and heroism, Senior Lieutenant Vasiliy Mykhlik was awarded an honorary title of Hero of the Soviet Union, the Order of Lenin and the Gold Star medal (# 5936).
By the Decree of the Presidium of the Supreme Soviet dated 29 June 1945, Captain Vasily Mykhlik was awarded a second Gold Star medal.
After the war he continued his service in the Soviet Army. In 1951 he graduated from the Red Banner Air Force Academy. In 1966, Col. V. Mykhlik - in reserve. He lived in Moscow. He died on his birthday - December 29, 1996. He was buried at Troekurov cemetery in Moscow.
He was awarded the Order of Lenin, three Orders of the Red Banner, the Order of Alexander Nevsky, two 1
st
Class Orders of the Patriotic War, the Order of the Red Star, and medals.
A bronze bust of twice Hero of the Soviet Union, V. Mykhlik was installed in Krivoy Rog.