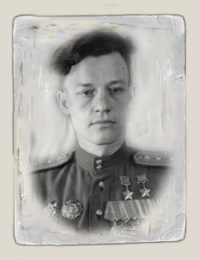 25. 6. 1922 - 12. 10. 1950
Ivan Pavlov was commander of the 6
th
Guards Attack Aviation Regiment (the 3
rd
Air Army, the Kalinin Front), Guards Lieutenant;
squadron commander of the 6
th
Guards Ground Attack Aviation Regiment (the 3
rd
Air Army, the 1
st
Baltic Front), Guards Captain.
He was born on June 25, 1922 in Boris-Romanovna, now Kostanay region (Kazakhstan) in a peasant family. Russian. In 1931-1932 he lived in Terensay, now Adamovsky district of Orenburg region, since 1932 - in Magnitogorsk (Chelyabinsk region). Completed 7 years of school, in 1940 - 3 years of Magnitogorsk Industrial College and Magnitogorsk flying club.
Joined the Army in December 1940. In 1942 he graduated from Chkalov Air Force Pilot School (Orenburg).
Took part in the Great Patriotic War: in June 1942- May 1945 – a pilot, flight commander, deputy commander and commander of the squadron, navigator of the 6
th
Guards Ground Attack Aviation Regiment (the Kalinin and the 1
st
Baltic Fronts).
By the Presidium of the Supreme Soviet on February 4, 1944 for his courage and heroism performed during 127 sorties (by October 1943), Guards Senior Lieutenant Ivan Pavlov was awarded the honorary title of Hero of the Soviet Union, the Order of Lenin and the Gold Star medal (# 2844).
When the Hero's countrymen learned about this, they collected money, purchased four attack planes and granted one of them to Ivan Pavlov. There was written on the board, "To our countryman, Hero of the Soviet Union, comrade Pavlov from Kustanay's workers." By October 1944 he made 77 sorties more.
By the Presidium of the Supreme Soviet on February 23, 1945 for his courage and heroism, Guards Captain Ivan Pavlov was awarded the second Gold Star medal (# 4178).
Altogether during the war he made 237 sorties on the Il-2; his crew shot down the Me-109 fighter. He took part in the Rzhev-Sychevka, Velikie Luki and Smolensk operations, liberated Belarus and the Baltic countries, took part in the elimination of Samland enemy group. Was wounded.
In 1949 he graduated from Frunze Military Academy. He commanded the 947
th
Attack Aviation Regiment (in the Carpathian Military District). On October 12, 1950 died in the air crash. He was buried in Kostanay (Kazakhstan).
Major (1948), an Air Force pilot of the third class (1950). He was awarded two Orders of Lenin (02/04/1944, 08/02/1944), two Orders of the Red Banner (08/26/1942, 06/02/1943), the Order of Alexander Nevsky (10/07/1944), the 1
st
Class Order of the Patriotic War (12/04/1942), medals.
Was enrolled in the lists of the military unit. A bronze bust was installed in Kostanai, where the street is named after him, as well. In Boris-Romanovka there is a school museum regarding the Hero.