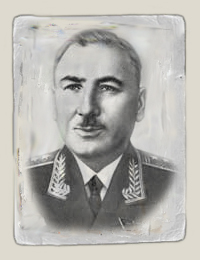 25. 11. 1903 - 6. 2. 1979
Issa Pliev was a prominent commander of the Red Army - commander of the cavalry mechanized group of the 3
rd
Ukrainian Front, commander of the mechanized cavalry group of the Transbaikal Front.
He was born on 12 (25) November 1903 in Old Batakoyurt, Right Bank district of the North Ossetia ASSR in a peasant family. Osset.
Joined the Red Army in 1922. A member of the CPSU (B) since 1926. I. Pliev graduated from the Leningrad Cavalry School, in 1933 - the Military Academy named after M. Frunze, in 1941 - the General Staff Academy, and higher academic courses at the Military Academy of the General Staff.
Since 1933 he was Head of Operations of Cavalry Division, since 1936 advisor to the Mongolian People's Revolutionary Army, then commander of a cavalry regiment. He participated in combat operations in western Belarus.
During the Great Patriotic War I. Pliev, commanding a cavalry division, cavalry corps and mechanized cavalry group, implemented a number of major operations to defeat the enemy forces.
By the Decree of the Presidium of the Supreme Soviet dated 16 April 1944 for skillful command of the horse-mechanized group (the 3
rd
Ukrainian Front), Lieutenant-General Issa Pliev was awarded the honorary title of Hero of the Soviet Union, the Order of Lenin and the Gold Star medal (# 3648).
By the Decree of the Presidium of the Supreme Soviet on September 8, 1945 for his courage and heroism displayed during the defeat of the Kwantung Army, where he commanded a cavalry-mechanized group (the Transbaikalian Front)Col. Gen. Issa A. Pliev was awarded the second Gold Star medal.
After the war, I. Pliev commanded the army, was First Deputy and then commander of the North Caucasus Military District. In June 1962, he put down labor unrest in Novocherkassk, Rostov Region. Then in the autumn of that year, he brilliantly led the "Anadyr" operation on the landing and deployment of the Soviet troops in Cuba.
By the Council of Ministers of the USSR in 1962, Colonel-General Pliev was promoted to the rank of General of the Army.
Since 1968, the Army General I. Pliev was part of the Group of Inspectors General in the Ministry of Defence. At the XXII Congress of the Party Issa Pliev was elected candidate of the CPSU Central Committee. He was elected deputy of the Supreme Soviet of the USSR of the 2
nd
-7
th
convocations.
Army General I. Pliev died on February 6, 1979. He was buried in Ordzhonikidze, now Vladikavkaz.
He was awarded six Orders of Lenin, the Order of the October Revolution, three Orders of the Red Banner, two 1
st
Class Orders of Suvorov, the 1
st
Class Order of Kutuzov, medals and foreign orders. Hero of the Mongolian People's Republic.
A bronze bust of twice Hero of the Soviet Union, I. Pliev was installed in Vladikavkaz. Ordzhonikidze higher anti-missile defense college, streets in Ordzhonikidze - Vladikavkaz and Rostov-on-Don were named after him.