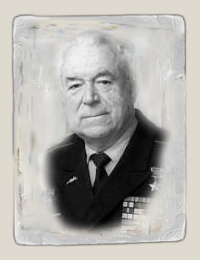 1. 5. 1922
Vitaly Popkov was commander of the 5
th
Guards Fighter Aviation Regiment of the 207
th
Fighter Aviation Division of the 3
rd
mixed aviation corps of the 17
th
Air Army of the Southwestern Front, squadron commander of the 5
th
Guards Fighter Aviation Regiment of the 11
th
Guards Fighter Aviation Division of the 2
nd
Guards Ground Attack Air Corps of the 2
nd
Air Army of the 1
st
Ukrainian Front.
He was born on May 1, 1922 in Moscow in a working class family. Russian. A member of the CPSU (B) since 1943. He graduated from Moscow High School number 94.
Joined the Red Army in 1940. Began his service as a cadet at Chuguev military aviation pilot school. Then he graduated from Bataisk military aviation school. From May 1942 he was on the front. He fought on the Kalinin, Don, South-West, Steppenwolf, the 1
st
and the 3
rd
Ukrainian Fronts. Was a flight commander and squadron. During the Great Patriotic War fighter pilot Popkov made more than 400 combat missions and successfully conducted 117 fights, he personally shot down 41 enemy planes (1 – during ram attack) and one in a group.
By the Decree of the Presidium of the Supreme Soviet on September 8, 1943 Guards Junior Lieutenant, Vitaly Popkov was awarded the honorary title of Hero of the Soviet Union, the Order of Lenin and the Gold Star medal (№ 1080).
By the Decree of the Presidium of the Supreme Soviet on 27 June 1945, squadron commander of the 5
th
Guards Fighter Aviation Regiment (the 11
th
Guards Fighter Air Division, the 2
nd
Guards Assault Air Corps, the 2
nd
Air Army, the 1
st
Ukrainian Front), Guards Captain Vitaly Popkov was awarded a second Gold Star medal (№ 7900).
In 1951 he graduated from the Red Banner Air Force Academy, in 1964 – General Staff Academy. He mastered 25 types of planes and helicopters. Was responsible for working with Ministry of Defence. In 1968 he was promoted to the rank of Lieutenant General of Aviation. Since 1980, taught at Military Engineering Academy named after Zhukovsky. After his retirement, in 1989, he was engaged in social activities.
He was awarded three Orders of Lenin (08/26/1942, 09/08/1943, 09/28/1956), two Orders of the Red Banner (07/30/1943, 06/04/1955), the Order of Alexander Nevsky (08/17/1944), two 1
st
Class Orders of the Patriotic War (05/23/1943, 04/06/1985), the 2
nd
Class Order of the Patriotic War (5/29/1945), the Order of Peoples' Friendship, two Orders of the Red Star (12/30/1956, 12/27/1982), the 3
rd
Class Order "For Service to Motherland in the USSR Armed Forces (02/17/1976), the Russian Order of Merit (2007), and medals.
Honored Military Pilot of the USSR (1967).
Honorary citizen of Moscow (09/13/2000), Magadan, Sochi, Kiev, Odessa, Dnepropetrovsk, Gagra, Prague, Vienna, Budapest, Bratislava, Parndorf, and Krasnik.
A bronze bust of Hero was set on Samotechnaya Square in Moscow in 1953.