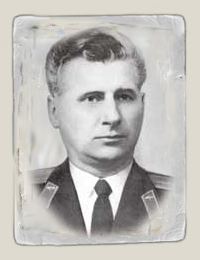 19. 1. 1923 - 27. 5. 2002
Alexey Prokhorov was a bomber pilot.
He was born on January 19, 1923 in Rozhdestvenskoye, Borisoglebsk district of the Voronezh region. Russian. In 1940 he graduated from Borisoglebsk Aero Club.
In the Army since 1940. He studied at Balashov military aviation school, and after graduating in 1942 he was sent to Leningrad, and then to the 3
rd
Belorussian Front. He fought in the 15
th
Guards Regiment assault. Was a flight commander, squadron. During the war he made 238 sorties on the Il-2.
Aleksey Prokhorov was awarded the honorary title of Hero of the Soviet Union, the Order of Lenin and the Gold Star medal (№ 6126) on April 19, 1943.
The second Gold Star medal he received on June 29, 1945.
After the Great Patriotic War, A. Prokhorov successfully graduated from the Red Banner Air Force Academy (1950), served in command positions in the Air Force. Was deputy head of Higher Military Aviation Engineering School. From 1968 to 1975 and from 1979 he taught at Frunze Military Academy.
He lived in Moscow. Died on May 27, 2002. He was buried at Troekurov cemetery in Moscow.
Air Force Major General (1976). He was awarded the Order of Lenin (1945), three Orders of the Red Banner (January 1944, June 1944, November 1944), the Order of Alexander Nevsky (1945), two 1
st
Class Orders of the Patriotic War (1944, 1985), two Orders of the Red Star (1943, 1956), the 3
rd
Class Order "For Service to Motherland in the USSR Armed Forces" (1975), and medals.
A bronze bust of Hero was set in his homeland.