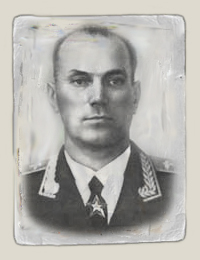 24. 12. 1910 - 6. 4. 1990
Evgeny Savitsky commanded the 3
rd
Fighter Aviation Corps.
He was born on December 24, 1910 in Novorossiysk, Krasnodar Territory in a working class family. Russian. He graduated from a factory trade apprenticeship, worked as a driver.
Joined the Red Army in 1929. A member of the CPSU (B) / Communist Party since 1931. He graduated from the Military Pilot School in 1932. In 1937, Lt. Savitsky commanded an echelon, and then a squadron and regiment. In 1941, Major Savitsky took over command of the fighter air division in the Far East.
Lieutenant Colonel Savitsky joined the Great Patriotic War in January 1942. He was commander of the 25
th
Air Force Army (March-April 1942), commander of the 205
th
Fighter Air Division (May - November 1942), air group commander of the 17
th
Air Army (November - December 1942). From December 1942 until the end of the war he commanded the 3
rd
Fighter Air Corps on the West, Voronezh, Southwestern, Stalingrad, the North Caucasus, the South, the 4
th
Ukrainian, the 1st and the 3
rd
Belorussian Fronts.
For his able leadership, 107 sorties and shot down 15 enemy planes, on May 5, 1945 commander of the 3
rd
Fighter Aviation Corps (8
th
Air Army, 4
th
Ukrainian Front), Major-General Evgeny Savitsky was awarded the honorary title of Hero of the Soviet Union, the Order of Lenin and the Gold Star medal (№ 1324).
By the end of the war, commander of that corps (the 16
th
Air Army, the 1
st
Belorussian Front), Lieutenant General of Aviation Savitsky made 216 sorties, shot down 22 enemy planes personally and 2 – in a group. On June 2, 1945 he was awarded the second Gold Star medal.
Since 1948, he commanded Air Defence. In 1955 he graduated from the Military Academy of the General Staff. Since 1966, he was Deputy Chief of the Defence Forces of the country. Since 1980 – an inspector in the Group of General Inspectors of the USSR Ministry of Defence.
He lived in Moscow. He died on April 6, 1990. He was buried at Novodevichy Cemetery in Moscow.
Air Marshal (1961), honored military pilot of the USSR (1965). He was awarded three Orders of Lenin, the Order of the October Revolution, five Orders of the Red Banner, the 2
nd
Class Order of Suvorov, the 2
nd
Class Order of Kutuzov, the 1
st
Class Order of the Patriotic War, two Orders of the Red Star, two Orders "For Service to Motherland in the USSR Armed Forces" of the 2
nd
and the 3
rd
Degrees, medals and foreign orders. Lenin Prize (1978). A candidate for membership of the CPSU Central Committee in 1961-1966. A member of the Supreme Soviet of the 6
th
convocation.
A bronze bust of twice Hero of the Soviet Union, E. Savitsky was set in his hometown of Novorossiysk in Sovetov street.