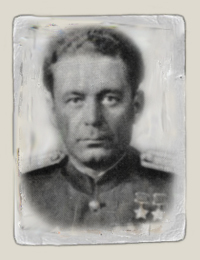 16. 9. 1907 - 6. 4. 1987
Zakhar Slyusarenko was Commander of the 56
th
Guards Tank Brigade of the 7
th
Guards Tank Corps and the 3
rd
Guards Tank Army of the 1
st
Ukrainian Front, Guards Colonel.
He was born on September 16, 1907 in Zmiev (now Kharkov region, the Ukraine) into a peasant family. Ukrainian. A member of the CPSU (B) / Communist Party since 1929. He graduated from the High School of the trade union movement and has worked in the glass factory. Joined the Red Army in 1932. In 1934 he graduated from Orel Armored School.
Entered the Great Patriotic War in August 1941. Prior to 1942 he commanded a tank battalion on the South-Western and Bryansk fronts, and then, until February 1944 - the 168
th
Armored Brigade at Stalingrad and a separate tank regiment on the Leningrad front.
Since February 1944 Z. Slyusarenko commanded the 56
th
Guards Tank Brigade of the 1
st
Ukrainian Front. Guards Colonel Slyusarenko skillfully managed the team during the Vistula River crossing in early-August 1944, in the battles for capture and expand of the bridgehead on its left bank to the south of Sandomierz.
By the Decree of the Presidium of the Supreme Soviet on September 23, 1944 for his courage and heroism in the battles against the Nazi invaders, Zakhar Slyusarenko was awarded the honorary title of Hero of the Soviet Union, the Order of Lenin and the Gold Star medal (№ 4650).
For successful operations in the battle for the capital of Nazi Germany - Berlin, personal courage and dedication, by the Presidium of the Supreme Soviet on May 31, 1945 Guards Colonel Slyusarenko was awarded the second Gold Star medal.
In 1949 Z. Slyusarenko completed advanced courses for officers at the Military Academy of the armored and mechanized forces, in 1957 - higher academic courses at the Higher Military Academy named after K. Voroshilov (the General Staff Military Academy). In 1960-65 Slyusarenko was Deputy Commander of the Northern Group of Forces. In 1963 he was promoted to the rank of Lieutenant-General of armored forces. Since 1965 - in reserve.
He lived in Kiev. He died on April 6, 1987. He was buried at Baikovoye cemetery in Kiev.
He was awarded two Orders of Lenin, the Order of the Red Banner, the 2
nd
Class Order of Suvorov, the 1
st
and 2
nd
Class Orders of the Patriotic War, the Order of the Red Star, some medals and foreign orders.
A bronze bust was installed in Zmiev.