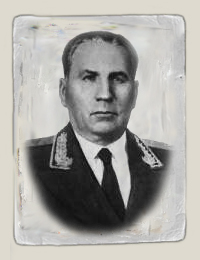 24. 6. 1904 - 24. 12. 1991
Ivan Fesin was commander of the 13
th
Motorized Rifle Brigade of the 3
rd
Tank Army of the Voronezh Front and Dnepropetrovsk 236
th
Infantry Division of the 46
th
Army of the Steppe (3
rd
Ukrainian) Front, Colonel.
He was born on June 24, 1904 in Muravlev (today Kamenka district, Rostov region) into a peasant family. Russian. A member of the CPSU (B) / Communist Party since 1929. After graduating from elementary school, he worked at the mine.
Joined the Red Army in 1926. He studied at Vladikavkaz Infantry School. After graduating it in 1930, he served in the armed forces of the NKVD. In 1941 he graduated from the Military Academy named after M. Frunze.
Took part in the Great Patriotic War since June 1941. Prior to 1942 he commanded a rifle regiment in the West and Northwest fronts.
Commander of the 13
th
Motorized Rifle Brigade (the 3
rd
Panzer Army, the Voronezh Front) Col. I. Fesin in January 1943 ably led a brigade in the battles to liberate Rossosh, Voronezh region, on the outskirts of Kharkov.
By the Decree of the Presidium of the Supreme Soviet on March 1, 1943, for his courage and heroism in the battles against the Nazi invaders, Fesin was awarded the honorary title of Hero of the Soviet Union, the Order of Lenin and the Gold Star medal (№ 827).
Later commanding the 236
th
Infantry Division (the 46
th
Army, the Steppe Front), Col. I. Fesin and his connection distinguished themselves in the Dnepropetrovsk operation, successfully forcing at night of September 26, 1943 the Dnieper River near the village of Soshinovka, Verkhnedneprovsk district of Dnepropetrovsk region, and held on the captured bridgehead.
By the Decree of the Presidium of the Supreme Soviet on November 11, 1943 Fesin was awarded the second Gold Star medal.
By the Order of the Supreme Commander the 236
th
Infantry Division in October 1943 was given the name "Dnepropetrovsk". That same year, I. Fesin was promoted to the rank of Major-General.
In 1944-48, Major-General Fesin headed the Moscow Military Infantry School named after the Supreme Soviet of the RSFSR. In 1949 he graduated from the Higher Military Academy named after K. Voroshilov (Military Academy of the General Staff), and then taught at the same academy. Since 1965 - in reserve. He lived in Moscow. Died on December 24, 1991. He was buried at Troekurov Cemetery in Moscow.
He was awarded two Orders of Lenin (1943, 1951), two Orders of the Red Banner (1946, 1956), the 2
nd
Class Order of Suvorov (1944), the 1
st
Class Order of the Patriotic War (1985), two Orders of the Red Star (1943, 1944) and medals.
A bronze bust of Hero was installed in his homeland.