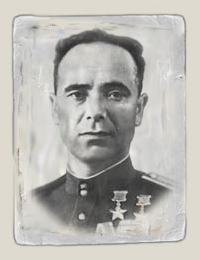 22.1.1913 - 5.5.1977
Stepan Artemenko is an infantry battalion commander of the 447
th
Infantry Regiment of the 397
th
Infantry Division of the 61
st
Army of the 1
st
Byelorussian Front; Major.
He was born on January 22, 1913 in Ratsulovo village, today Malinovka village of Ivanovo district of the Odessa region in a peasant family. Ukrainian. He graduated from the initial high school in 1927.
Joined the Red Army in 1935. After military service he worked for the NKVD.
On the Great Patriotic War fronts was from August 1941. A member of the CPSU (B) / Communist Party since 1941; was an ordinary fighter. In the battles at Kharkov replaced the commander of a platoon coming out of action, and for several days with a group of men held the defense, not letting the enemy. On Izyum-Borvenkovsky direction he commanded a squadron of machine gunners in the Tank Brigade.
Participated in the Battle of Stalingrad. He fought at Kursk, in western Ukraine, and Poland.
In January 1945, when breaking through the enemy defense on the west bank of the Vistula, Artemenko's battalion captured two lines of the enemy trenches. And then, along with tank crew he rushed to the town of Sochaczew and routed the enemy's garrison located there.
The title of Hero of the Soviet Union, the Order of Lenin and the Gold Star medal (№ 5687), Captain Stepan Artemenko was awarded on February 27, 1945, for his great Battalion command of the 447
th
Infantry Regiment (the 397
th
Infantry Division, the 61
th
Army, the 1
st
Byelorussian Front) during the breakthrough of the enemy defenses further south of Warsaw, in the battle for Shneydemyul-town (Pila, Poland), personal courage and heroism.
He ended the war in Berlin, where was seriously injured during the street fighting. It was his third wound.
On May 31, 1945 for distinguished service in crossing the Oder River and in the battle for Berlin, Major Stepan Artemenko was awarded the second Gold Star medal.
After the war, a brave officer continued his army service. In 1946 and 1948 he graduated from advanced training of officers. Prior to 1955, Colonel Artemenko was district military commander in Odessa. Died on May 5, 1977. Buried in the city-hero of Odessa at the Second Christian cemetery.
He was awarded the Order of Lenin, two Orders of the Red Banner, the Order of Alexander Nevsky, the 1
st
Class Order of the Great Patriotic War, the Red Star, and medals.
A bronze bust installed in the hero's motherland.