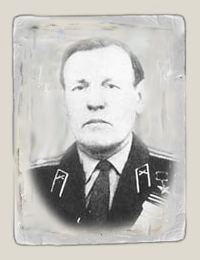 25.12.1919 - 19.1.1975
Stepan Kretov was Squadron of the 24
th
Guards Aviation Regiment (the 50
th
Air Division, the 6
th
Air Corps of Long-Range Aviation), Captain.
He was born on December 25, 1919 in the village of Malaya Nitchka, today Minusinsk district of Krasnoyarsk region in a peasant family. Russian. He spent his childhood and adolescence in Minusinsk. He graduated from secondary school. He studied at Kansk agricultural college, graduated from the flying club.
In the Army – since 1939. In 1940, he graduated from Balashov Air School. He served in the Air Force combat units.
Participated in the Great Patriotic War from June 1941. Fought in the 21
st
Long-Range Aviation Regiment (from September 1943 – the 24
th
Guards Aviation Regiment). Was commander of the squadron of the 24
th
Guards Bomber Aviation Regiment (Long-Range Aviation) by early 1944, he made 336 sorties on the Il-4 bomber, destroyed 60 enemy planes on the airfields and knocked down 10 planes.
By the Decree of the Presidium of the Supreme Soviet, for courage and heroism in battle, on March 13, 1944 Captain Stepan Kretov was awarded the honorary title of Hero of the Soviet Union, the Order of Lenin and the Gold Star medal (№ 3538).
He had to leave the bomber's cabin with a parachute eight times. Once, after a successful sortie the plane's left engine broke down. Over 800 kilometers the pilot flew the crippled bomber on one engine. After the raid on the airfield near the town of Saray Germans lost 26 planes on the ground. In December 1944 it was tasked to bring down Kerch port heavily guarded by Nazi. The task was successfully implemented, but on the way back the crew had to throw the parachutes over the sea about a kilometer from the shore. During the war Kretov made 400 combat missions on the IL-4 bomber. Successfully bombed the enemy troops in the Caucasus, Ukraine, during the capture of Königsberg, in Poland, Romania, Hungary and Germany.
By the Decree of the Presidium of the Supreme Soviet on February 23, 1948 Major Stepan Kretov was awarded the second Gold Star medal (№ 44/II).
After the war he continued service in the Air Force combat units. In 1950 he graduated from the high-tactical flight school, in 1958 – Air Force Academy (Monino). Since 1961, he served in the Strategic Missile Forces, was a teacher and assistant professor at Rostov military engineering school. From December 1973 – Senior Lecturer at Military Academy named after F. Dzerzhinsky. In 1974, Colonel S. Kretov – in retirement.
He lived in Moscow. Died on January 19, 1975. Buried at Vvedensky cemetery in Moscow.
Colonel. He was awarded two Orders of Lenin (1942, 1944), two Orders of the Red Banner (1941, 1942), the Order of the Red Star (1954), and medals.
A bronze bust was set in Minusinsk of Krasnoyarsk Region.