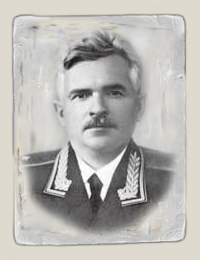 24. 8. 1914 - 22. 8. 1967
Pyotr Pokryshev was Squadron of the 154
th
Fighter Aviation Regiment, commander of the 159
th
Fighter Regiment of the Leningrad Front.
He was born on 9 (24) August 1914 in Golaya Pristan, now Kherson region (the Ukraine) in a peasant family. Ukrainian. A member of the CPSU (B) since 1941. He graduated from a factory trade apprenticeship.
Joined the Red Army in 1934. In 1935 he graduated from the Odessa Military Pilot School. He participated in the Russo-Finnish War and the liberation campaign of the Soviet troops in western Ukraine.
During the Great Patriotic War, P. Pokryshev fought on the Leningrad front, where he was considered one of the best pilots of the front. He showed remarkable courage and heroism. He commanded a squadron of the 154
th
Fighter Aviation Regiment, made hundreds of sorties, and then commanded the 159
th
fighter aviation regiment, brilliantly performed complex combat missions. P. Pokryshev made about 300 sorties, participated in 60 air battles during which he personally shot down 22 enemy planes and 7 - in a group.
On February 10, 1943 Captain Pyotr Pokryshev was awarded the honorary title of Hero of the Soviet Union, the Order of Lenin and the Gold Star medal (# 804).
The second Gold Star medal (# 12), Major Pyotr Pokryshev was awarded on August 24, 1943.
After the war, in 1954 he graduated from the General Staff Academy. Continued to serve in command positions in the air defense. He was a deputy of the USSR Supreme Soviet of the third convocation. Since 1961, Air Force Major General Pokryshev - in retirement.
He lived in Leningrad (1991 - Saint-Petersburg). He worked as chief of the Leningrad airport. Tragically died (drowned) on 22 August 1967. He was buried in Golaya Pristan, Kherson region, the Ukraine.
He was awarded the Order of Lenin, three Orders of the Red Banner, the Order of Alexander Nevsky, the 1
st
Class Order of the Patriotic War, two Orders of the Red Star and medals.
A bronze bust of twice Hero of the Soviet Union, P. Pokrysheva was installed at his homeland. Streets in Leningrad - St. Petersburg (1968) and in Donetsk (the Ukraine) are named after him. His name was engraved in the museum diorama "Break through the Siege of Leningrad" in Kirovsk, Leningrad region.