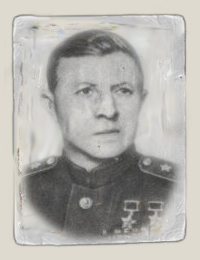 8. 3. 1905 - 13. 4. 1977
Alexander Rodimtsev was Soviet military commander, soldier-internationalist as part of Spanish Republicans, commander of the 32
nd
Guards Rifle Corps of the 5th Guards Army of the 1
st
Ukrainian Front.
He was born on March 8, 1905 in Sharlyk, Sharlyksky district of the Orenburg region in a poor peasant family. Russian.
Joined the Red Army in 1927. A member of the CPSU (B) since 1929. In 1932 he graduated from Military School named after the Central Executive Committee. He participated in the Civil War in Spain (under the pseudonym of Captain Paulito), in the liberation campaign in Western Belarus. In 1939 he graduated from Military Academy named after M. Frunze. In 1940 participated in the Russo-Finnish War.
During the Great Patriotic War, A. Rodimtsev commanded an airborne brigade, and the famous 13
th
Guards Rifle Division of the Order of Lenin, which heroically defended Stalingrad. Since 1943, he commanded the 32
nd
Guards Rifle Corps, which reached the capital of Czechoslovakia - Prague.
On October 22, 1937, for exemplary performance of a particular job in the army of Republican Spain, Major Alexander Rodimtsev was awarded the honorary title of Hero of the Soviet Union and the Order of Lenin. Following the establishment of a special sign of distinction he was awarded the Gold Star medal № 57.
The second Gold Star medal (№ 6049), commander of the 32
nd
Guards Rifle Corps of the Guards, Lieutenant-General Rodimtsev was awarded by the Decree of the Presidium of the Supreme Soviet on June 2, 1945, for his able leadership while crossing the Oder, on January 25, 1945 near Linden(Poland), and for his personal heroism and courage.
After the war he graduated from Higher Academic Courses of the Academy of General Staff, was commander of the compound, assistant commander of the troops of the military district, the principal military adviser and a military attaché in Albania. Since 1956, he served in the Army. Since 1966 – in a group of Inspectors General of the Ministry of Defence. He was elected deputy of the Supreme Soviet of the second convocation, and a deputy of the Supreme Soviet of the third convocation. He is the author of several books, "Under the sky of Spain," "On the last frontier," and others.
Famed Soviet military commander died in Moscow on April 13, 1977. He was buried at Novodevichy Cemetery.
He was awarded three Orders of Lenin, the Order of the October Revolution, four Orders of the Red Banner, two 2
nd
Class Orders of Suvorov, the 2
nd
class Order of Kutuzov, 1
st
Class Order of Bogdan Khmelnitsky, two Orders of the Red Star, medals and decorations, foreign medals.
Honorary Citizen of Volgograd.
A bronze bust of Alexander Rodimtsev was set in his native village, Sharlyk; a monument and a memorial stele - in Orenburg, a bust - in Kursk, plaques - in Moscow and Volgograd. Streets in Sharlyk, Volgograd, Orenburg, Chernigov, Kiev, in Tomarovka, Belgorod region are named after Rodimtsev. His name was also given to school number 2 in Sharlyk, lyceum number 3 in Orenburg, school number 53 in Kursk, School of Olympic Reserve in Volgograd, Sevryba association's super trawl ship (Murmansk).